With natural majesty and history, the midwest is filled with American delights waiting to be discovered. The Heartland is calling!
To take advantage of your ASA travel discount to visit this area, visit our partner Collette Travel:
https://www.gocollette.com/en/tours/north-america/usa/spotlight-on-south-dakota
South Dakota: Ready for Exploration
Friendly South Dakota is the land of presidents, wild west history, and mountains majesty. And it's our top pick for summer travel in the midwest! As the 17th largest state by area, but the 5th least densely populated, the Mount Rushmore State gives you plenty of space to roam freely.
Discover the Island in the Plains
Very friendly for senior travel, South Dakota is home to awe-inspiring experiences that involve as little or much walking as you enjoy. A favorite pastime for locals and tourists alike is driving in the Black Hills (US Highway 385). As you see the deep ponderosa pine forests rising from the grassfields, you'll know why this is called an "Island in the Plains." And when you discover the lakes nestled in the mountains, you'll inhale a deep breath of life.
Osprey Trail (Black Hills Trail #58) is a senior-friendly walking trail with .8 and 1.5 mile loops. Wheelchair friendly ones include Roughlock Falls Nature Area and Veterans Point Trail, which both have fishing.
Looking for a hands-free experience of the Black Hills? The 1880 Train is a lovely way to take in the scenery. Restored vintage steam trains from the mining era nostalgically transport you between Hill City and Keystone, giving you time to meander at each historic city.
Those interested in mining history can also make historic Lead a stop on their drive. Home to the official mining museum of the state, you can experience what mining life was like - and even pan for gold yourself! With the guarantee that you'll find gold, you'll be yelling eureka just like the original miners did.
Soak in the Frontier's Thermal Springs
Rejuvenate from your road trip at Hot Springs, originally founded as a frontier health spa in Black Hills. Six thermal springs emerge here for a delightful respite. You'll find the oldest spring at Evans Plunge, which is complete with a waterpark perfect for a vacation with the grandkids. A more indulgent experience can be enjoyed at Moccasin Springs Natural Mineral Spa, with 93 degree mineral springs flowing from a natural red rock formation (shaped like a moccasin). Their soaking pools are complemented by a full service spa. The onsite Buffalo Dreamer restaurant features seasonal, ancient-American inspired cuisine, which chef Rebecca Christensen curates with ingredients like bison and heirloom corn.
Set in a beautiful sandstone canyon with matching turn-of-the-century architecture, Hot Springs will be a memorable experience for both your body and soul. This self-guided Walking Tour of downtown Hot Springs will meander you through their special architecture and lead you to Fall River, where all the springs converge.
The hot springs are so enticing that even the wooly mammoths have been here. In fact, Hot Spring's Mammoth Site is an active paleontological dig that has discovered 58 Columbian mammoths and continues to uncover more. The museum includes a 30-minute tour around the sinkhole and full-size replicas of the woolys found here. Seniors enjoy a discount and children under three are free, making it a great intergenerational destination.
Mt. Rushmore Awaits
Of course, the most famous place in the Black Hills is Mt. Rushmore, which is easily accessible, including by wheelchair. Carved by a team of over 400 men, most were gold-rush miners who sculpted the mountain with dynamite and jackhammers. Afterwards, drillers and finishers sitting in bosun chairs were lowered down 500-feet to finely carve the surface, making it as smooth as concrete. The faces of our beloved presidents are over 60 feet tall and a beautiful exhibition of the audacity of the American spirit. Admission is only $5 for seniors 62 and older (or free with the lifetime National Parks and Federal Recreational Lands Senior Pass, which we discuss later).
Visit Rapid City for Accelerated Fun!
Just to the east of Black Hills National Forest is Rapid City, which is also known as the gateway to Mt. Rushmore. Here you can enjoy golf, the rodeo, and free Summer Nights concerts every Thursday from 6-9 pm right downtown. One of five museums in the city, The Journey Museum and Learning Center here will take you from the dawn of time through the pioneers. About a 15 minute drive away is The South Dakota Air and Space museum, which is free and showcases a wide history, with vintage aircraft from WWII to the modern spac capsules and the B1-B Bomber.
Badlands is a Good Drive and Custer is Wild
Rapid City is also a lively and convenient jumping point for drives to Badlands and Custer State Park. Badlands, known as the Land of Stone and Light, is a striking geologic adventure of 35 miles off Highway 240. The dramatically carved cliffs and rock formations that began about 70 million years ago contain the world's richest fossil beds, which show evidence of rhinos and ancient horses. Today, the park and its color-patterned buttes are 244,000 protected acres, home to bighorn sheep, bison, black-footed ferrets, and prairie dogs. Stay for an unforgettable sunset against the red-tinted hills.
A drive through Custer State Park promises a majestic trip through the mountains that look hand-painted. No walking is needed, but there are plenty of options for hikes for active seniors. Driving on the 18-mile Wildlife Loop here, you can spot bison, prairie dogs, pronghorns, deer, elk and "wild burros" who just might say hello at your car window, looking for treats. (Apples are their favorites!)
There is so much waiting to be explored in South Dakota. What are you waiting for?
America the Beautiful: National Parks in the Midwest
Another great idea for summer travel is using our National Parks as a compass. Seniors enjoy the best deal on the best scenery with The National Parks and Federal Recreational Lands Senior Pass. A lifetime pass is only $80 for those who are 62 and older. If you are traveling with family, your pass includes free entrance and day-use fees for three additional adults and unlimited children under 16.
The pass grants access to more than 2000 federal recreation sites, including national forests, historic sites, recreation areas, monuments, and national wildlife refuges. Our favorites of Mt. Rushmore and Badlands in South Dakota are included in this pass.
There are too many majesties to name, but some of our delights in the midwest for summer travel include:
Theodore Roosevelt National Park, ND:

"I would not have been president had it not been for my experience in North Dakota," said Teddy Roosevelt.

See the land where he became a president, frontiersman and conservationist. One of the best spots in the midwest for stargazing, Theodore Roosevelt National Park is as beautiful in the evening as the day. Free trails will lead to the Knife River Indian Villages, which is believed to have been Sacagawea's home before she joined Lewis & Clark's Corps of Discovery. From mid-June until Labor Day, there are also free tours through Maltese Cross Cabin, Roosevelt's home in the Dakotas. In fact, this cabin was acquired for the World's Fair in St. Louis during his presidency, and then it traveled to Portland, OR for the Lewis and Clark Centennial Exposition. Now it has been restored to its original state.

Yellowstone National Park, WY:

America's first national park, Yellowstone is famous for Old Faithful Geyser and Grand Prismatic Spring. With towering waterfalls and the largest concentration of earth's active geysers, Yellowstone stuns generation after generation. Keep your eyes out for black and grizzly bears, wild bison in the thousands, wolves, and more.

Voyageurs National Park, MN:

On the border between the US and Canada, this national park is actually ⅓ water, with four large lakes and 26 smaller ones. This is a fisher's delight! Stay aboard a houseboat, resort with lakeside cabins, or camp on one of the many secluded islands.

Pictured Rocks National Lakeshore, MI:

Pictured Rocks is as picturesque as it sounds! Dramatic cliffs and stunning rock formations look painted by the Creator with vivid red and turquoise brushstrokes. All set against the teal waters of Lake Superior, this is a paradise getaway - in the midwest! Some of the most beautiful spots are easily reached by seniors, including trails that are wheelchair accessible. Munising Falls is accessed by a slightly uphill 800-foot paved trail. All the trails to Miners Castle's overlooks are paved and recommended, with exception to the steep trail to the lower overlook. Sand Point Marsh Trail has a half-mile boardwalk that is wheelchair-accessible and guides you through a cattail marsh, spruce-tamarak swamp, an open bog, and white cedar wetlands. Complete your trip to painted paradise with a boating or kayaking adventure.

Isle Royale National Park, MI:

Calling seniors who love the wilderness!

On a secluded island in Lake Superior, this is one of the most remote and pristine islands in continental America. Reached by ferry or seaplane, this isle will greet you with an untouched landscape (especially since there are no permanent residents). Camp or book ahead for one of the cottages at Rock Harbor Lodge that has million-dollar views. Rent a boat and pack a picnic to enjoy on one of the many islands.
Our National Parks are treasure troves waiting to be explored. What are your favorites? Comment below and share your memorable adventures with us!
For more summer travel ideas, check out our East Coast and West Coast guides. Or download our entire American Seniors Summer Travel Guide to see our favorite destinations in our home sweet home.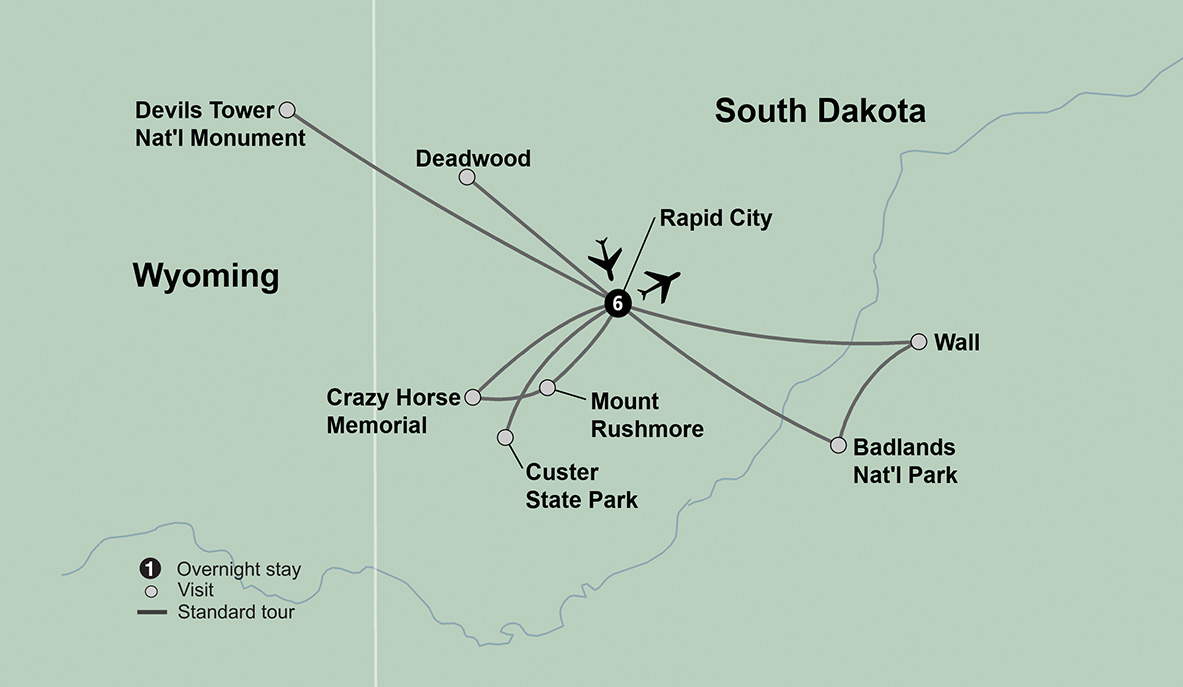 To take advantage of your ASA travel discount to visit this area, visit our partner Collette Travel:
https://www.gocollette.com/en/tours/north-america/usa/spotlight-on-south-dakota